THE BEAUTY MARKET IN SOUTH EAST ASIA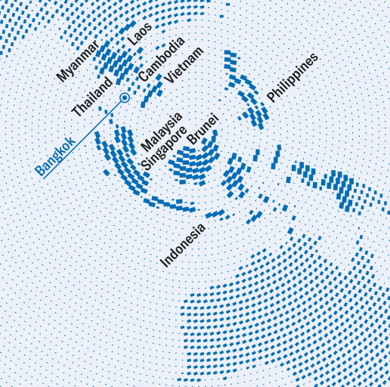 Cosmoprof CBE ASEAN Bangkok is poised to be the gateway to beauty markets in South East Asia, a region with a combined population of 750 million people in 10 countries – Brunei, Cambodia, Indonesia, Laos, Malaysia, Myanmar, Philippines, Singapore, Thailand and Vietnam and a combined GDP of $2.8 trillion.
ASEAN Beauty Market is a high potential and attractive area for international brands who are deeply interested in the latest ASEAN trendsetters.
Thai cosmetic sector represents the 25% of the ASEAN area, hosting the biggest beauty community of local OEM/ODM of the region.
Acceleration of beauty eCommerce in Southeast Asia: beauty eCommerce sales is projected to grow from $6 billion in 2015 to $88 billion in 2025.
ASEAN Economic Community (AEC) enable an easier movement of goods, services, investment, capital and people across the region among ASEAN members.  
ASEAN revenue in the Beauty & Personal Care amounts to US$29.97BN IN 2023. The related market is expected to grow by 3.56% annually (2023-2027).
A digital guide of economics, social and cultural tips to better know this strategic beauty market.