THE BEAUTY MARKET IN SOUTH EAST ASIA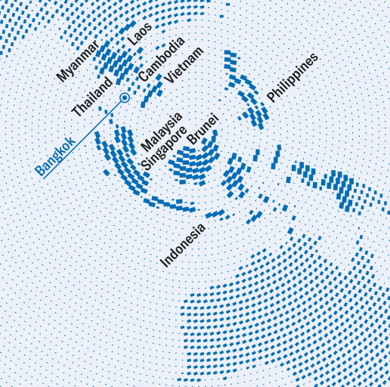 Cosmoprof CBE ASEAN Bangkok is poised to be the gateway to beauty markets in South East Asia, a region with a combined population of 750 million people in 10 countries – Brunei, Cambodia, Indonesia, Laos, Malaysia, Myanmar, Philippines, Singapore, Thailand and Vietnam and a combined GDP of $2.8 trillion.
ASEAN Beauty Market is a high potential area for international brands, with a revenue of over USD 25M in 2021 which is expected to grow annually by 5.73% (CAGR 2021-2026). Beauty e-commerce sales are projected to grow up to USD 88B in 2025.
ASEAN consists of 10 members with 750 million population, namely, Brunei, Cambodia, Indonesia, Laos, Malaysia, Myanmar, the Philippines, Singapore, Thailand, and Vietnam.
Thailand is the Hub of ASEAN: Thailand's vibrant culture, hospitality and complete infrastructure make it an attractive regional hub.
Acceleration of beauty eCommerce in Southeast Asia: beauty eCommerce sales is projected to grow from $6 billion in 2015 to $88 billion in 2025.
ASEAN Economic Community (AEC) enable an easier movement of goods, services, investment, capital and people across the region.  
By 2020, it is estimated that Southeast Asia will have 10 billion dollars of more room to grow in the beauty and personal care sales value.
A digital guide of economics, social and cultural tips to better know this strategic beauty market.